Some other Romillys, past and present!

(Romily with one "l" is also welcome, as is Romillie with an "ie"! See here, here and here)

Last updated on 24 June 2018.
---
Note: I have removed most email addresses from this page, in case of privacy problems. However, if you want to get in touch with any of these people, by all means email me and I will forward your message to the latest address I have. (So please keep me informed if you change yours!) And, by the way, as always, you have the right to be deleted from this page, and my records, if you so wish.
---
Yes, it's unusual, but, as you see, Romilly is not such an uncommon name after all ...
A suggested meaning for the name is that it derives from "Roche Mille Lys" - "rock of a thousand flowers (lilies?)". Others suggest connections with Rome. Any better ideas, please write!
Romilly-sur-Seine
The small town of Romilly-sur-Seine, just south-east of Paris, in the province of Aube, between Paris and Troyes, may (or then again, may not) be the start of it all. This is the largest, but there are at least four other less-well-known towns or villages named Romilly in France.(see "Places" below). (This may well be a connection, but of course it doesn't really explain the name. Were the towns named after people, or people after the towns?)
A first name or a surname?
There are many examples of Romilly as a surname as well as a first name - I think it probably started that way, became "double barrelled" (wife's maiden name?) and then became a first name on its own. See Romilly Meager's family tree for examples of this process. And (as you will see) as a first name, it can equally well be male or female.
It looks as though (apart from Alice de Romilly) the name came to England as a surname with Etienne Romilly. My guess is that this was also the origin of most, if not all, the surname Romillys in other English-speaking countries.
Anyway, here is a list, compiled by searching the Internet, a browse through "Who's Who", and many contributions by e-mail since this page first appeared in 1996 ...
Romilly as a surname
Alice de Romilly (12th Century)

Founder of Bolton Priory, Yorkshire. See also "Art and literature" below.


Etienne Romilly (1677/78 - 1733) »

A Huguenot, fled from Montpellier, France, to England in 1701, on the revocation of the Edict of Nantes (which led to severe persecution of Huguenots in France). Married Judith de Montpellier (or Monsallier?). Apart from 12th Century Alice, it looks like he is the origin of the Romillys in Britain and perhaps throughout the English-speaking parts of the world. (Who says religious persecution never did any good? ;-)
Paul D. Romilly, of Wells, Maine, has sent me an extensive family tree (mostly constructed, he tells me, by Adrian Romilly of Plymouth, Devon, UK) showing over 150 descendants of Etienne Romilly! Thanks, Paul! My feeble efforts pale into insignificance! The symbol » on this page marks people included in that tree.
Romilly Meager of Christchurch, England, has sent another part of the family tree, as an Excel spreadsheet. Many thanks, Romilly.
(If you don't have Excel, there's a free viewer you can download for - I believe - Windows 95, 2000, NT3.51 or later.)
Another part of the tree comes from Barbara Lance in Ottawa, Canada. I've drawn it as an Excel spreadsheet (I hope I've got it right!) No connection to the others, though. Surely we should be able to find Charles Llewelyn Romilly (1891 - 1975, born in London)?
By the way, does anyone know a better way than Excel to draw this sort of thing? (It's got to be free, though!)
Another list of surname Romillys is at www.thepeerage.com/i3226.htm#45168.
I haven't cross-checked these completely with my own information. It's likely they are better validated than mine! Who will put them all together for us?

Peter Romilly (died 1784) »

Son of Etienne and Judith, lived in Frith Street, Soho. Married Margaret Garnaut (d. 1796).


Sir Samuel Romilly (1757 - 1818) »

Son of Peter and Margaret. Judge and legal reformer. Attacked the severity of English criminal law. Married Anne Garbett. Children were Sophia, William, John, Edward, Henry, Charles and Frederick.


Thomas Peter Romilly (1753 - 1828) »

Youngest son of Peter and Margaret. Married Jane Anne Romilly (his cousin, daughter of Isaac and Mary Romilly).


Joseph Romilly (1791 - 1864) »

Son of Thomas Peter and Jane Anne.


Catherine Romilly »

Daughter of Thomas Peter and Jane Anne.


William Romilly (1798 - 1855) »

First son (second child) of Sir Samuel and Anne.


Sir John Romilly (1802 - 1874) »

Second son (third child) of Sir Samuel and Anne. Lawyer and statesman. Created 1st Baron Romilly (1865). Master of the Rolls, Durham Cathedral from 1851 to 1873. Married Caroline Charlotte Otter (daughter of William Otter, Bishop of Chichester).
Married Elizabeth Elliott. Three sons (details follow) and two daughters.


Samuel (or Samual?) Henry Romilly (1849 - 1940) »

First son of Frederick and Elizabeth. Barrister.


Col. Frederick William Romilly (1854 - 1935) »

Second son of Frederick and Elizabeth. Lived in Taplow.


Elizabeth Mary Romilly ( - 1950)

Daughter of Col. Frederick (see above). Married Horace Alfred Damer Seymour in 1880.


Hugh Hastings Romilly (1856 - 1892) »

Third son of Frederick and Elizabeth. Administrator, explorer and author, expert on Papuan popular tales, myths, medicine and sorcery. Books include:


"From My Verandah in New Guinea" (1889)
"The Western Pacific and New Guinea" (1886).


William Romilly (1835 - 1891) »

First son of Sir John and Caroline. Became 2nd Baron Romilly. Married Emily, daughter of Lieut. Gen. Sir John Gaspard le Marchant, KCB (d. 1866)


Major John Gaspard Le Marchant Romilly (1866 - 1905) »

3rd Baron Romilly (succeeded 1891). Lived in Barry, South Wales. Married Violet Edith Egerton (1897).


Col. Bertram Henry Samuel Romilly (1878 - 1940) »

Son of Samuel Henry. Awarded DSO, 1902. Married the sister of Sir Winston Churchill's wife Clementine. Two sons, Esmond and Giles (see below).


Eric (earlier called Frederic) Carnegie Romilly (1886 - 1953) »

Son of Samuel Henry. Barrister. Lived in Bodenham, Herefordshire. High Sheriff of Herefordshire, 1941.


Major William Gaspard Guy Romilly (1899 - 1983) »

4th Baron Romilly (succeeded 1905). Married Diana Sackville-West (1929 - 1944), Dora Morris (1944 - 1960) and Elizabeth Cecil (1966). The Barony of Romilly died with him.


Esmond Mark (Marcus?) David Romilly (1918 - 1941)

Son of Bertram Henry Samuel (hence, a nephew of Sir Winston Churchill). Fought in Spanish Civil War, flew in the Royal Canadian Air Force in WW2, killed in action. Married Jessica ("Decca") Mitford.


(Anne) Constancia Romilly (1941 - )

Daughter of Esmond and Decca (see above).


Giles Samuel Betram Romilly (1916 - )

Son of Bertram Henry Samuel (hence, a nephew of Sir Winston Churchill). Prisoner in Colditz. Author, with Michael Alexander, of "Hostages of Colditz" (New York, 1973). Children Elizabeth (Lizzie), Edmund and Crystal (see below).


Lizzie Blanche Romilly (1950 - )

Eldest child of Giles (see above). Lizzie has had a career as an actress; roles included Lois Ardsley in "For Services Rendered" by Somerset Maugham at the National Theatre Lyttelton Stage in 1979, and Breda and Alphonsine in "The Beastly Beatitudes of Balthazar B" by J.P. Donleavy at the Duke of York's Theatre in 1981. She now works as a lawyer in the Government Legal Service, and lives in the East End of London (UK) where she is involved in local campaigns and issues. She also writes.


Edmund Humphrey Samuel Romilly (1951 - )

Son of Giles (see above). Barrister, previously with Trafalgar Chambers, now practising in Temple Gardens, London, and also a novelist - books include "Skinner" and the forthcoming "The Barn" (see Amazon for more on these).


Crystal Sophia Romilly (1956 - )

Daughter of Giles (see above). Senior Registrar in Forensic Psychiatry at Oxleas NHS Trust.


George Romilly ( - 1933) »?

Son of Charles. Editor of Madras Times. Later, lived in Winchester.


Judge Selwyn R. Romilly (1940 - )

Trinidad-born Supreme Court Justice in British Columbia, Canada since 1955. Known for tempering judgements with social conscience.


Professor Jaqueline de Romilly (1913 - )

Member of the Académie Française since 1988, respected expert on the development of democracy and liberty in Ancient Greece. In 1995, given honorary Greek nationality in recognition of services to teaching and research. Married (1940 - 1974?) to Michel Worms de Romilly. Prolific author on the history of philosophy. Among many others:

"Thucydides and Athenian Imperialism" (Oxford, 1963)
"Magic and Rhetoric in Ancient Greece" (Cambridge, Mass, 1975)
"La liberté et les libertés (Geneva, 1990)
"La vue d'en haut: découverte des sciences de l'homme" (1990)
"La construction de la verité chez Thucydide" (Paris, 1990)
"The Great Sophists in Periclean Athens" (Oxford, 1992)
"Alcibiade et les dangers de l'ambition" (Paris, 1995)

Professor of Mechanical Engineering in the Department of Mechanical Engineering, Centre for Integrated Computer Systems Research, University of British Columbia. Working on robotics and rehabilitation.


Nicole Worms de Romilly

Author of the definitive catalogue of paintings by French cubist Georges Braque (1882 - 1963): "Braque, le cubisme, catalogue de l'oeuvre, 1907 - 1914" (Paris, 1982). The picture shown here is "Castle at La Roche-Guyon", 1909 (Romilly 42).

I must admit that cubism isn't my thing, but if you like it, visit the Tate, where you can learn more.


Senior Lecturer in Economics at the University of Abertay, Dundee (Scotland), Chairman of the Tayside Foundation for the Conservation of Resources, and parliamentary candidate for the Scottish Green Party in 1999. Author of many papers on Econometrics, Transport and the Environment. Son of Maurice Romilly.


Lorna Romilly

President of Romilly Enterprises, supplying consultant services to health organisations, North Vancouver, BC. Chairperson of British Columbia Racing Commission.


Eric Romilly »

Descended from Sir Samuel. "A real time process control computer geek" (he says), currently working in optical fiber manufacturing.


Rupert Samuel Romilly

Son of Martin (cousin of Esmond and Guy). Living in Brussels. (Thanks for your e-mail, Sam. But there was no return address! - Please write again ...)


Edgar Phillip Romilly (1919 - 2004) »

Ancestor of a group of New England Romillys ...
Paul is the first son of Edgar Phillip Romilly. Paul and Michelle live in Wells, Maine, with sons Todd and David. Paul is a serious student of the family! (See note above ...)


Robert Reed Romilly »

Bob is the second son of Edgar Phillip Romilly. Married to Donna, living in Littleton, Massachusetts. They have two children ...


Kerry Ann Romilly Ackerman (1969 - ) »

Daughter of Robert Reed Romilly and Donna, granddaughter of Edgar Phillip Romilly, niece of Paul D. Romilly (see above, also the family tree). Born 1969, with three daughters. Kerry is a real estate paralegal in Boston, Massachusetts. Kerry would love to correspond with others. E-mail to kaackerman@msn.com


Robert Reed Romilly Jr. (1973 - ) »

Son of Robert Reed Romilly and Donna.


Michael Alec Romilly

Student at the University of Abertay, Dundee. Son of Dr. Peter Romilly.


David Paul Romilly

Born 1984, son of Dr. Peter Romilly. Studying at the University of Stirling.


Keith Romilly

Computer programmer, born 1967(?) in UK but grew up in Trinidad and Tobago. Son of Adrian Romilly, who was first cousin of Judge Selwyn Romilly. Wife Cleopatra and four children Aisha, Crystal, Patricia and Adrian. Keith is also working on the family tree and would welcome any information. E-mail tonyke1@hotmail.com


Charles Romilly

Charles is another, working on the family tree. E-mail to cromilly@aol.com.
Senior Lecturer in the Department of Mathematics and Statistics at Plymouth University. Provider (I think) of the family tree mentioned above.


George Peabody Romilly

Lives in Washington, DC. George - I'm going to call him George(3) - is also doing some family history research. He has an interesting story ... His father, also George, was born George(2) Schweitzer, in Margate, England, on 2 December 1912, to parents George(1) Schweitzer and Cornelia Haven Peabody (born New York, 12 June 1880, died St. Jean de Luz, France, 10 September 1927). George(1) was a pastel painter, and George(3) believes that he changed his surname and that of his son George(2) to Romilly, when he was in the British military during World War 1 (the name Schweitzer being perhaps something of a liability in England at that time!) Romilly, it seems, was George(1)'s mother's maiden name (but sadly, we don't have a connection to other Romilly family trees).


Arthur Hovell Romilly

Had a daughter, Monica Blanchflower, grandmother to the husband of Sarah Chaudoir (from whom the information, thanks ...) Listed in World War 1 Roll of Honour at Bexhill, Sussex, together with Francis Henry Romilly. Both were captains, according to the Great War Index.
Double-barrelled Romillys
Henry Romilly Fedden

Author of "Suicide: A Social and Historical Study" (London, 1938).


A. Romilly Fedden (1875 - 1939)

Landscape painter, lived in Gloucestershire, Oxfordshire, Sussex and Chantemesle in France. Nice watercolours. Also known for writing "Golden Days, From the fishing log of a painter in Brittany", about his enjoyment of fishing; see for instance "Fly fishing in Brittany".


J. Romilly Allen

Author of "Celtic Art in Pagan and Christian Times" (1904, facsimile reprinted 1993).
First-name Romillys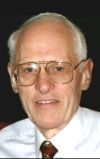 There's me, of course ...
Romilly Bowden

Born 1934 in Grays, Essex. Years and years in computers. Specialist in industrial control and communications protocols, especially the HART® protocol. Now more or less retired, living with wife Sheila in Bognor Regis, West Sussex, England. Here are some more pictures. For technical stuff, see my "HART and Fieldbus" website.

and many others. Those born before 1990 (probably!) ...
Romilly James Heald Jenkins

Translator, with L.G. Westerlink, of letters of I. Nicholas (9th Century) (1973) and author of "Byzantium: the Imperial Centuries, AD610 - 1071" (1966, 1987)
Son of Welsh artist Augustus John. See also "Romillys in art and literature" below.


Romilly Lockyer

of the Smalltalk User Group and Cocking & Co. - specialists in Object Oriented Software.


(Ms.) Romilly Gregory

IT Project Manager at Oxfam. Joint author of "A Definition of Database Design Standards for Human Rights Agencies" (Washington, 1994). Romilly went to the same school as I did (St. Christopher School, Letchworth) but not at the same time!


Romilly Squire O.St.J., G.O.S.E., KNN., D.A., F.S.A.Scot., F.R.S.A., S.H.A.

Heraldic artist. Joint author (with George Way) of "Collins Scottish Clan and Family Encyclopaedia" (1995) and "Collins Pocket Reference - Clans and Tartans" (1996). Illustrator of "Kings and Queens of Europe: A Genealogical Chart of the Royal Houses of Great Britain and Europe", compiled by Anne Taute (1996). 4th Dan, organiser of the Edinburgh Taiseidokai Kendo Club and Baron-Baille of Plean, Class 1 member of the Noble Society of Celts.
Thanks to David Reid of Muirhall, Baron Sergeant of Plean and of Elphinstone, for confirmation that this gentleman can be seen "Also Also Appearing" in Monty Python and the Holy Grail.
Graduated from Brasenose College, Oxford in 1997, now working in London.


Romilly (Erickson) Liloia

Pompton Plains, New Jersey.


Romilly Nolan

Played Gloria, in the 1992 Thames TV series "The Tomorrow People" by Roger Damon Price.


Romilly D. Paul

Erstwhile political science student at York University, Canada. Now Customer Service Representative at Canadian satellite dish company Bell ExpressVu Inc.


Romilly Anne Drabble

Born January 1981. Lived in Matching Tye, Essex, England before moving to USA in 1983. Currently (2012) lives in New Jersey. Named after the sister of a family friend (Charles Dawson - local school teacher). "Hoping that the Romilly I was named after may see this and reach out as I never met her." [Success - emails forwarded, and contact made with Romilly Dawson!]


G. Romilly Goodfellow

Descended from Cecily de Romilly. Needlework designer(Golden Circle Designs) now moved from Eugene, Oregon to Cary, North Carolina.

Here's a tiny sample of Romilly's work, "Lucinda in the Rose Garden".



Romilly Jane Bishop (1982 - )

Born and living in Western Australia.


(Ms.) Romilly Quain (1976 - )

Born July 1976, in Co. Limerick, Ireland. Studying for a Masters degree in MIS and Managerial Accounting at UCC Cork.


(Mr.) Romilly Hall (1975 - )

Journalist on the West Sussex County Times, living in Horsham, Sussex. Named after a great grandfather, Romilly Elliott, a Cornish tin miner. Also related to Australian "Romillys". (Details, maybe, somebody?).


Romilly R. Robinson

At James Madison University, Harrisonburg, Virginia.


Romilly Claire Siddall (née Wilson)

Born August 1973, in Martham, Norfolk (UK). Grew up in Blackmore, Essex, went to Chelmsford High School and Staffordshire University (1991 - 1994). Married (25 July 2001) to Andy, they are now living in Southern Ireland, and have a daughter Erin Robin Siddall (born 23 May 2003).


Romilly Megan Ioana Baicoianu

Born March 1985 in Ontario, Canada. Now living in California. Mother (Sheila) is originally from England, father from Romania.


(Miss) Romilly Belcourt

Born 1987(?) in London, now living in Canada.


Romilly Jack Eveleigh

Born March 1981. Named after Romilly John. Living in London, studying at Courtaulds (art history research) Institute.


(Miss) Romilly A. Haslam

Born March 1980 in Newbold Verden, Leicestershire. Now studying Veterinary Medicine at Bristol University. Home is in Richmond, North Yorkshire. E-mail to rh8437@bristol.ac.uk. Romilly says she would be very happy to hear from others.


Romilly Jane Ashdown (formerly Dron)

Born 1984(?). Of Scottish origin, now studying at the Royal Veterinary College in London (in her 4th and penultimate year, as of January 2006). Romilly has been travelling a lot (Thailand, Indonesia, Australia), and hopes to do more ...
Born 1936. A first-name Romilly, but also descended via mother and grandmother from Etienne Romilly and Sir Samuel. A long career with the BBC, ending up in Manchester as Engineering Manager on TV Outside Broadcasts. Romilly has provided a useful part of the Romilly family tree as an Excel spreadsheet (see note above). E-mail to romilly@onetel.net.
Born (Romily Thompson) in 1949 in Margate, Kent. After 18 years in New Zealand, returned to work for the public library service in Bolton, Lancashire. Ralph and Romily have two children, aged 18 and 20.


Romilly Ruth Everett

Born August 1984. Home is in Devon (UK). Studying geology at Cambridge University. Especially interested in the fossils (palaeontology) part.
Born October 1976 in the UK. Educated at Crewkerne, Somerset and Bournemouth University. Web-designer and now sub-editor at NOW.com, an internet/digital TV company. Romily lives in London with fiancée Lynne.


Romilly Gransden (née Chipperfield)

Born in Glasgow, July 1973. Moved to Farnham, Surrey in 1976, educated at St Catherine's School in Bramley, then studied Psychology at Sussex University. Now living in Surrey with husband and two dogs.


(Mr.) Romilly Blackburn

Born October 1973 in Auckland, New Zealand. Registered Architect, co-founder and Chief Operations Officer of BSITE International Ltd., providing workforce management and project collaboration software for the global construction industry. Named (probably like several of us) after Romilly John.


Romilly Claire Goodall

Born 1979 in Crawley, Sussex. Dad chose the name having known Romilly Cocking. Now living in Tonbridge, Kent and working for an internet-based company in London. Romilly would love to hear from others.


Romilly Ann Rogers

Born and grew up in Hastings, East Sussex, named after Romilly Street in London. Now at Warwick University, graduated 2:1 last year (2002) in Economics and Politics (Congratulations!), now studying for a Masters degree in International Political Economy. Romilly has visited Romilly-sur-Peche in France. (Does anyone know anything more about that place?)


Alexander Romilly Bruford

Lived in Melbourne, Australia, with son Peter Alaxander Romilly Bruford, in the early half of the 20th century. (Info from Di Webster, thanks ...)


Romilly Rene Foutz Farina

Born 1967 in Denver, Colorado; now living in Lewisville, Texas. Working as a Regional Contact Manager for Avaya. Married with three children: Chesley, Lucy and Henry.


Romilly Collins

Studying at Worcester College, Oxford. (More details, maybe, Romilly?)
This was the pseudonym of Isabelle Wilson (? - 1975), whose books were:

Heron (in the US: Daughters of Richard Heron),1934
To-morrow is Also a Day, 1935
The Splendour Falls, 1936
Characters in Order of Appearance, 1938
Mary Cloud, 1939
Beneath the Visiting Moon, 1940
I'll See You Again, 1946
All My Own Work, 1958



Romilly Forshall is remembered by the Romilly Forshall Foundation, a UK charity set up in 2001 following Romilly's untimely death in 1999 at the age of 14. Its mission, together with Romilly's Association in France, is to relieve the suffering of children in distress in Africa. More about Romilly here.



(Miss) Romilly Turl

Born 1981, living in Surrey.




(Ms.) Romilly Golding

Born 1975, in East Sussex, now working in Switzerland as an editor and copywriter. Apart from writing, Romilly's other passions are cooking and knitting. A couple of writings appear on the web, on Basel and Geneva. Yet another of us named after Romilly John.

From the '90s ...
Romilly Jane Wilson Hay (1991 - )

Born March 1991 in Edinburgh, daughter of Sheelagh and John Hay. (Thanks, John.)


(Miss) Romilly Smith

Born January 1991. Lives at home (UK) with sisters Josie and Katie, parents, grandad, his dog and two cats.


Romilly Janette Cole

Born June 1992. Lives in the Isle of Wight with her mum and dad.


Romilly Caroline Elizabeth Whiteley

Born October 1992. Dad Stephen says: "a pretty little girl and future archaeologist or musician".


Romilly Flora Beddow

Born September 1994. Living in Shepherd's Bush, London, with parents Emma and Dominic, brother Patrick, and Biscuit. (Oh, yes, if you were wondering, Biscuit is a cat!) Welcome, Romilly.


Romilly Grace Phear

Born September 1994. Living in Bedfordshire with mum Pippa, dad Paul, and sister Chloe Venetia. Enjoys painting, swimming, holidays and Barbies. Wants to be a horse rider. Welcome, Romilly.


(Miss) Romilly Jones

Born October 1995 in Durham. Parents Stewart and Andrea (and Romilly) live at Fencehouses, County Durham. Welcome, Romilly.


Romily Ellen Dutton

Born April 1996, daughter of Julie and Trevor Dutton. Welcome, Romily.


Romilly Evie Rose Browne

Born July 1996 in Bath, where she lives with parents Tom and Joanna Odam-Browne. Romilly is already a talented dancer and artist, say grandparents George and Penny Odam. Joanna met Bryony and Romilly Greenhill across the road from grandmother Penny's house in Beccles, Suffolk, and liked the name. (Of course!) Welcome, Romilly.


Romilly Lacey

Born September 1997 in Salisbury, daughter of Tamasin and Matthew Lacey. (Thanks to friend Robin Boswell for this.) Welcome, Romilly.


Romilly Beatrice Newman

Born March 1998 in New York City, daughter of Antonia and Peter Newman, sister for James and Griffin. (Thanks to friend Beck Underwood for this.) Welcome, Romilly.


Romilly Beatrix Violett

Born July 1998, fifth of her parents' beautiful daughters. Lives in Barnet, Hertfordshire. Welcome, Romilly.


Romilly Elizabeth Mary Brooks

Born April 1999 in Ashford, Kent, daughter of Martin and Cressy Brooks, a sister for Tallulah. (Present hobbies are reported as eating, sleeping and smiling!) Welcome, Romilly!


Linnea Camille Romilly Chappell

Born (August?) 1999 in Paris, daughter of Rosamund and Andrew Chappell. Thanks for the news, Andrew. Andrew has also provided information on his branch of the Romilly family tree, which is included in Romilly Meager's spreadsheet (see note above). Welcome, Linnea!


Romilly Zoe Hryczanek

Born September 1999 in Reading, Berkshire, daughter of Peter and Nikki Hryczanek, and sister for Max and Ross. Thanks for the news, Peter. Welcome, Romilly!


Romily Gerome

Born February 1996 in San Francisco. Romily is now in 4th grade and lives in Charlottesville, Virginia with mom, dad, sister and lots of pets!

and from the '00s (noughties?) ...
Romilly Anne Cerys Underwood

Born January 2001 in Auckland, New Zealand, daughter of Mary (originally from Wales) and Richard, living in Waiuku, NZ, with brother Jack and Flash the cat.
Welcome to the world, Romilly!



Romilly Madison Georgia Hicks

Born February 2001 in Subiaco, Perth, Western Australia, daughter of Caroline (née Gould, from Weston-Super-Mare, Somerset, England) and Stefan (from St. Andrews, Scotland). Romilly (Caroline says) is a picture of health and happiness...
Welcome to the world, Romilly!



Romilly Kathleen Hayward

Born March 2001 in Chelsea, London, daughter of Damaris and Justin Hayward.
2001: Welcome to the world, Romilly!

2011: 10 years later, Romilly is a keen horse rider and netballer, and is learning karate. She now lives in Oxfordshire with her family including pony Izzie, dog Scully, hamster Mini, 25 hens and 5 ducks! She also wants to be a scientist when she's older (a splendid objective, I say ...).



Romilly Elen Hoggard

Born September 2001. Romilly was (then) known as Mimi, and lives with parents John and Vee Hoggard in Newbury, Berkshire. Vee says Romilly Elen means "hardworking angel", which the world needed at that time (and always will, I think)!
Romilly is due to start school in September 2006 and is very excited - she will be the first Romilly to go to the school and all the teachers and headmaster are very excited as none of them have ever taught a Romilly before. (So it goes ... isn't it great to have an unusual name?)



Romilly Victoria Proud

Born July 2002 in Stevenage, Hertfordshire, UK, daughter of Steve and Sonia Maria Proud. Romilly is absolutely gorgeous (Steve says) ... Steve also sends warmest regards to Romillys everywhere.
Welcome to the world, Romilly!

Steve sends an update (August 2012): Well, it has been 10 years ... Since then, this amazing little lady has shown a great interest in the performing arts and has made numerous appearances on stage. She has just finished performing as Gretl in The Sound of Music at the Gordon Craig Theatre and has created a stir amongst the adult professional performers who tell us that she has indeed got a very special talent and is a star in the making. Hopefully we may see the Romilly name in lights in the West End in the not too distant future.



Romilly Constance Blackwell

Born September 2002 in Subiaco, Perth, Western Australia, daughter of Debs and Leon Blackwell. Romilly has lots more photos on her own website.
Welcome to the world, Romilly!



Alice Romily Nunn

Born June 2004. Alice Romily (on the left) and twin sister Isabel India Nunn. Proud parents are Jane and Charlie Nunn, Brits currently living in San Francisco, California.
Welcome to the world, Romily!



Romilly Dawn Hodgkinson

Born December 2004, to proud parents Joanne and Ian. Romilly was 6 weeks early but when ready will live in New Inn, South Wales, where she will join Max the Belgian shepherd dog and Oubert the cat.
Welcome to the world, Romilly!



Romilly Peggy Marriott

Born Petersfield, Hampshire (UK) in December 2004, daughter of Matthew Marriott and Helen (nee Cortis).
Welcome to the world, Romilly!



Romilly Catherine Sweeting

Born June 2004, much loved daughter of Cathy and Stacey Sweeting, a sister for brother Harrison, living in Winscombe, Somerset. First picture was Romilly at 9 months (nearly crawling). Second picture at 3½, with Harrison. Now, Cathy says, "an adorable little madam who unbelievably is due to start school in September 2008. We are very pleased that over the last 3 years her 'unusual' name has been very well received and commented about but rarely copied!"



Romilly Orla Whitrow

Born in February 2005, Romilly is absolutely beautiful (proud mother Trish says!) and (so far!) a little angel! They live just outside Daventry, Northamptonshire. Trish claims a nice historical connection through her grandfather, whose family were French Huguenots.
Welcome to the world, Romilly!



Romilly Anne Jones

Born December 2003 in Croydon, living in South London with parents Roger and Joanne.
Welcome to the world, Romilly!



Romilly Jade Bawden

Born August 2005 in Brisbane, Australia. A first child for Bilyana and Troy.
Welcome to the world, Romilly!



Romilly Catherine Ruby Feeney

Born June 2005 at 7lbs 1oz. A first baby and "an absolute joy" for Louisa and William Feeney, living near Norwich, UK.
Welcome to the world, Romilly!



Romilly Lauren Das

Born October 2002 in Derby. A daughter for John and Denise (nee Arrowsmith), and a sister for Oliver. Romilly is a spirited and lively little girl who loves to dance and sing (and, I think, to dress up!).
Welcome to the world, Romilly!



Romilly Bea Startup

Born December 2005 in Medway, Kent. A second daughter for Paul and Janine, sister to Harry Paul, Laura Jay, and Tom William.
Welcome to the world, Romilly!



Romilly Beatrice Redmond

Born July 2005 in Oakham, Rutland. A second daughter for Adrian and Lizzie, and a sister to Hugh and Kitty.
Welcome to the world, Romilly!

... and more recent contacts (unsorted) ...

Romilly Clara Alice Walden

Born January 1998 in Surrey, now living with her parents in the Netherlands for a few years. Vriendelijke groeten, Romilly! (Is that right?)



Romilly Alice Young

Born February 2006 just outside Edinburgh. A daughter ("an absolute delight"!) for Jodi and Trevor, and a sister for Pippa (also in the first picture here). Nicknamed Ro or Ro-Ro by big sister. Moved to the Philadelphia area (USA) in mid-2006. She is now (2008) the middle child, as the family welcomed another daughter, Beatrix, in July 2007. Romilly's new T-shirt was made from a photo of the Romilly Street sign in London. Romilly's own website, with lots more pictures and videos, is at romilly.theyoungpages.com/.
Welcome to the world, Romilly!



Romilly Sophia Poppy Moran

Born June 1999, darling daughter of Julian and Susie Moran (dad and mum are officers in the Royal Marines and the Royal Navy repectively). Romilly loves ballet, horses, school, her big brother and baby sister and "simply sparkles through life". Sophie took Romilly's name from Wordsworth's poem "The Force of Prayer" which she had read at school.



Romilly Sofia Davis-Barrett

Born on February 2006 in Bath, England. An "absolutely gorgeous" daughter for Amy and Michael.
Welcome to the world, Romilly.



Romilly Poppy Charlotte Rampton

Born on June 2006, a sixth child and second daughter for Sasha & Ian Rampton. Living in Hampshire (UK) with her sister and four brothers.
Welcome to the world, Romilly.



(Ms.) Romily Madden

Born on July 1980 in Welwyn Garden City, Hertfordshire. Granddad suggested the name, with one L, to avoid the possible shortening to "Milly"! Romily gained a degree in Politics and Modern History in 2002, and an MA in History, at Manchester University. Now living and working in London.



Romilly Ireland

Born November 2006 in Tooting, South West London. A daughter for Cecilia and Dave, the name is remembered from a childhood friend of Cecilia's. The picture is at 1 day old ...
Welcome to the world, Romilly.



Romilly Francesca Close

Born February 1994, Romilly lives in Molesey, Surrey, with parents and older brothers Toby and Patrick. She loves all animals: "my favourites are all big cats, velociraptors and sabre toothed tigers". The pictures are of "mixed cat" Kitty Mix and German Shepherd Alto. Another pet is budgie Sunny (also known as Squeaky). Romilly loves "all music, especially Seal, Snow Patrol, U2, Coldplay and Bryan Adams". Romilly points out that there are several streets named after her! (I shall add them to this page shortly ...)





Romilly Hoggan

Born in 1969, in Plymouth, Devon (England). Romilly moved to Canada in 1970, and is now a Canadian citizen, living in St. Catharines, Ontario. She loves her name (I think we all do!), but had never heard of another Romilly until a recent news report on Romilly Collins of Christie's. Named after author Romilly Cavan.



Romilly Charlotte Norma Gjessing

Born October 2006 in Sydney, Australia, a daughter for proud parents Rob Gjessing and Annabelle Daniel. Lots more pictures on Romilly's photogallery. ...



Romilly Bending

Born August 2003. Romilly lives in Cornwall (UK) with mother Annaliese, who has a selection of startling and beautiful photographs on her professional website at www.annaliese.co.uk.



Romily Alexandra Alice Porter

Born September 1995 in Norwich, Norfolk, now living in New Zealand.



Romilly Elizabeth Norman

Born May 1976 in Ipswich, Suffolk. Romilly says "My parents found the name Romilly in the Daily Telegraph births column, liked it and I got it. I didn't like it when I was a school as I wanted a popular name but now I love it, so good to be different." (I think most of us would agree with that.)



Romilly Martin

Born in 1979 in London, Romilly lives in Stoke Newington with boyfriend Will and cats Purple and Noodle. (The picture is of Noodle.) Romilly works at SonyBMG in London. As she says, "It's nice to see there are so many other Romillys out there".



Romilly Alice Willis

Born February 2007 in Surrey, a first child for Adrian and Sarah.
Welcome to the world, Romilly.



Romilly Clara Yule

Born September 2006 in London, a daughter for Kate and Lee, a sister for Louis Albert. Currently going by the nickname of "Pom".
Welcome to the world, Romilly.



Romilly Rose Pickering

Born December 2006, twin daughters for Matthew and Heather. The picture shows Romilly Rose (left) and her twin sister Eliza Violet (right) learning to sit up just before bedtime.
Welcome to the world, Romilly and Eliza.



Romilly Huxley

Born October 2001, in the UK. Romilly has just finished her first year at school, and is thrilled to find out that she isn't the only Romilly in the world! Romilly lives with parents Steffi and Steve, and sister Eleanor; Steffi says Romilly "is kind and helpful and lovely!"



Romilly Maia Beth Watson

Born June 2007, a daughter for Dr. I.M. & Mrs L.J.Watson, sister for Thomas (also pictured - well, why not?), living in Wotton-Under-Edge, Gloucestershire. Thanks to grandparents Ivor and Rosemary Dugdale-Jenkins for this news ...
Welcome to the world, Romilly.



Romilly Mae Holdsworth

Born October 2007 in West Yorkshire, a daughter for Nicky and Tim Holdsworth, "two of the luckiest people alive".
Welcome to the world, Romilly.



Romilly Louise Lloyd

Born September 2007 in Manchester. Grannie Lynn says Romilly was destined to be a Holly, until her Mummy saw Romilly Weeks on TV and hey presto!! she became one of a growing trend.
Welcome to the world, Romilly.



Romilly Jane McFarlin Palmateer

"Romy" was born in November 2007, in Philadelphia, PA, a second daughter for Betsy and Matt, who write: "She is a wonderful and very sweet baby girl! She joins big sister Quincy Elizabeth Fitch Palmateer who absolutely adores her!"
Welcome to the world, Romy.



Romilly Claudia Townsend

Born August 2006, living in Buckinghamshire. Mum Celia says: "she is a beautiful, vivacious and feisty child. I named her this as I have always thought it a very beautiful and unusual name."
Welcome to the world, Romilly.



Romilly Saffron Scales

Born January 2007, a second daughter for Rupert and Lisa of Thirsk, North Yorkshire, and little sister for Imogen Scarlett. Romilly is also called Rolly (as in Polly) and also Ro-Ro (when she was first born, Immy could not say Romilly - it has stuck!).
Welcome to the world, Romilly.



Romilly Kate Watkins

Born February 2003, a first daughter for Karen and James, currently living in Cwmbran, Gwent, Wales, UK. And yes, dad says, TV news reporter Romilly Weeks was responsible for the choice of name! Her current nickname is Roo, as in "Romilly Roo".
Welcome to the world, Romilly.



Romily Sara Calic

Born September 2007, in South Hobart, Tasmania. Mum Sophie says "We chose the name after meeting Romilly Forshall in France many years ago, who sadly died in her teens. It is such a beautiful name, and like many others, we have had so many positive comments about our unusual name! I've attached a picture of our beautiful girl to add to your collection." Romily has been given a variety of nicknames, from 'womolilly' to 'roma' to womo' to 'rom romily'. There is also a Romilly Street in South Hobart - only a few streets from where our Romily was born!"
Welcome to the world, Romily.



Romilly Eleanor Millett

Born March 2003, second of three beautiful daughters for Charles and Sally, currently living in Reading. Like so many others recently, her name was inspired by TV's Romilly Weeks. "As a baby" Sally says, "we nicknamed her Rom Bom. Romilly started school in January 2008 and has been fascinated and happy to learn just how many other Romillys there are. Here is Romilly (on the right) with older sister Saffron, showing off the latest addition to our family, baby Aisha."
Welcome to the webpage, Romilly.



Romilly Rose Langron-Brown

Born July 2006, a sister for Finn Alexander. Mum Charlotte says "We initially decided to call her Romy (after Romy Schneider, Austrian actress) but weren't so keen on the name it was derived from, Rosemary. I did a little research into names and stumbled across Romilly; we both fell in love immediately".
Welcome to the webpage, Romilly.



Romilly Aiko Fowler

Born in Berkshire on 29 May 2008. Mum Marie says "We chose Romilly because it is both beautiful and unusual. 'Aiko' means Child of Love in Japanese and reflects her strong Japanese heritage on her fathers side. People often ask us where such unusual names come from and either love them immediately or just look a bit puzzled!".
Welcome to the webpage, Romilly.



(Mr.) Romilly van den Bergh

Romilly lives in Rijswijk, Holland. His son is also named Romilly. Well done! Goed zo! (Two more boys to help even up the scores!!) Romilly's name is often shortened to "Ro".



Romilly Cate Haves

Born February 2005, a daughter for Becky and Fred, living in Bedfordshire. Photos are at 4 months, and more recently. Mum Becky tells me that Haves is also (like Romilly) a French Huguenot name. "Everyone comments on her lovely name, and says how unusual it is (one of the reasons we chose it). She is a gorgeous girl (although we might be biased!), full of fun and laughter."
Welcome to the webpage, Romilly.



Romily Rose Tait

The first 2009 Romily for our collection! A daughter for Hilary and Ian, born on a snowy day in February in North West London. They say: "We wanted a characterful and distinctive name for our young lady, with a nod towards our French connections. Now that she has arrived it seems to suit her very well." (There's also a reference to some happy memories of a youth misspent in Kettner's bar on Romilly Street in Soho!)
Welcome to the world, Romily.



Romilly Edith Lane

Born in May 2006, a daughter for Helen and Dominic, sister for Beatrice and Euphemie. They live just outside Frome, Somerset.
Welcome to the webpage, Romilly.



Romilly Evans-Powell

Born in January 2004, living with parents Clare and Gary, and older brother Theo, in Risca, Newport, Gwent (which, Wikipedia tells me, has a lot of history and an award-winning male voice choir). Mum notes that Romilly doesn't really like to be referred to as "Romster" or "Romers"! (I'm not surprised!)
Welcome to the webpage, Romilly.



Romilly Louise Clemmens

Born in July 2008, a second daughter for Helen and Chris, sister for Isobelle. Romilly was named after TV's Romilly Weeks ...
Dad notes that Romilly has a meaning of to wander (see WikiAnswers), maybe because Roaming got changed to Romilly. "I think the name Romilly was the right choice for our second child ... She wanders all over our house shuffling on her bottom!"
Welcome to the webpage, Romilly.



Romilly Harriet Grace Page-Turner

Born in June 2009, in London, a daughter for Fiona and Greg. Fiona comments that Romilly will be glad to have lots of other name-sakes. (Not too many, though. We like to be a bit uncommon, I think!)
Welcome to the world, Romilly.



Romilly Matilda Trigwell

Born in September 2009, in Bedfordshire, a daughter to Samantha and Philip, a sister for Max Samuel (who is nearly two and calls her Romy). Mum Samantha says "Everyone loves her unusual name!"
Welcome to the world, Romilly.



Romily Elizabeth Moore

Born in September 2008, in Lincoln, a daughter to Abigail and Simon, a sister for Milo. Mum says "She is kind and loving and very feisty! She can certainly stand her ground with her older brother Milo! He absolutely adores her and calls her Romy."
Welcome to the world, Romily.



Romilly Huntley Evans

Born in Gloucestershire, studied Modern Languages at Exeter University. Romilly graduated in 2008, and is now working for Conde Nast International in London.




Romilly Georgina Kemp

Born in Reading, Berkshire in February 2010, a daughter for Gary and Mel. "Our beautiful new daughter - she's gradually coming to terms with being out in a big new world, but has already won over many hearts and scores highly on the 'cuteness' scale."
Welcome to the world, Romilly.



Romilly Kate Stuart Cumming

Born in Hunterville, New Zealand, in September 1989, Romilly was a student at Massey University in Wellington, studying for a Bachelor of Communication. Romilly asks what others get called for short. She says "Most of my friends call me Rom (Kiwis are the best at shortening names) but my family and close family friends call me Milly". (I think those are probably the favourites - does anyone have other alternatives? I'll collect them into a separate section!)
Romilly is now (2012) in Australia, working as Admin and Events Coordinator at Hawker Brownlow Professional Learning Solutions in the Melbourne Area.




Romilly Anna Leah Spaul

Born in Devon in August 2003, a daughter for Gill, and sister for Colette and Joseph. "A future dancer or musician. She is known as Roo or Rooty by the family but Romilly at school. We chose her name because it was a good long-form for Roo (which was what she was called before she was born) and also inspired by Emma Thompson's daughter's second name."
Welcome to the webpage, Romilly.



Romilly Anna Smallman

Born in January 2006 in Huntingdon, Cambridgeshire, a first daughter for Helen and Darryl Smallman.
"We loved the name when we heard Romilly Weeks on the television. The name suits her perfectly. We haven't met another Romilly yet but it is lovely to see so many others have such a pretty name."
Welcome to the webpage, Romilly. The first reported this year (2011) - Happy New Year, everyone ...



Romilly Daisy Gardner

Born in April 2004, in Gateshead, Tyne and Wear. A daughter for Dawn and Christopher, a sister for Niamh and Connie.
Welcome to the webpage, Romilly.



Romilly Elizabeth Hope Townend

Born in December 2006, Romilly has an elder sister, Freya and a baby sister, Hannah. Mum Lucy says "Romilly has a heart of pure gold and is the best behaved and kindest child I have ever met".
Welcome to the webpage, Romilly.



Romilly Jennifer Crocker

Born in May 2011, in Bedfordshire, a further daughter for Alison and Nick. Here's Romilly with her elder sister Evie Cerys. Thanks to Grandma Lindsey for this - she says "everyone comments on her unusual name. I too love the name, and love the fact it has its own website".
Welcome to the world, Romilly.



Romilly Grace Steel

Born in May 2010, a sister for Orla (who is 3). Mum Victoria says "I had come across the name as a child in a book, though I cannot remember at all the book. The name came back to me when my little girl was born. At first Orla called her Roro but now we all call her Romy."
Welcome to the world, Romilly.



Romilly Alice Bowden

Born in August 2010, in Cambridge, a daughter for Emma and Jack. Here's Romilly with Dad ...
I'm delighted to welcome another "Romilly Bowden" to the web page - no, it seems we are not closely related!
Welcome to the world, Romilly.



Romilly Isla Jones

Born in May 2011 in Subiaco, Western Australia. Mum Anne-Marie Partington says "She loves playing with her two and a half year old sister Mikaela. She is a fabulous baby who sleeps well (so far - cross fingers it continues) and is always cheery. Everyone likes her name and to our surprise we are finding quite a few people who know other Romillys! We chose the name after we found it in our local newspaper and loved the way it sounds so warm and welcoming. Neither of us had heard it before. Because it is so uncommon it is great with Jones as a surname." (That's the third Romilly I know of in Subiaco: see Romilly Hicks, born 2001, and Romilly Blackwell, born 2002, above.)

Here's Romilly at (nearly) 5 months.

Welcome to the world, Romilly.



Romilly Edith Brooks

Born in February 2011 in Birmingham (UK), a first child for Laura Sayles and David Brooks. Known in the family as Roo or Roly, Mum says "she already loves visiting the park, exploring the World and so far seems to be quite the happiest child we could ever have dreamed of".

Welcome to the world, Romilly.



Romilly Beth Broach

Born in November 2011 at Princess Anne Hospital, Southampton, England, a daughter for Melanie and Michael Broach. Mum says: "She is our first child and is absolutely perfect! I have loved the name Romilly for years and am so glad I got to use it!"

Welcome to the world, Romilly.



Romilly Alexandra Bligh Sherborne

Born in June 1994 in Toowoomba, Queensland, Australia (I see it's nicknamed "The Garden City"). Mum Justine comments about the many compliments Romilly receives about her beautiful name. She notes: "We call her Romy, her colleagues call her Romilly. 18 years later I still love my choice (and so does she). I chose it when I was 3 days overdue, reading an old Harpers & Queen magazine article on Lord Alistair and Lady Romilly McAlpine."

Welcome to the page, Romilly.



Nicholas Romilly Lewis

Born in 1960 in Strasbourg, France. Lived in Thunder Bay, Ottawa and Montreal, Canada, and graduated from Lehigh University in Bethlehem, Pennsylvania. Lived in New York City for more than 20 years then moved to Wellington, New Zealand in 2004, where he is a Chartered Financial Analyst. Nick has a LinkedIn page here.

Nick is a nephew of Romilly Meager, and also appears in his family tree spreadsheet.

Welcome to the page, Nick.

Romillie and her sister Poppie live in Cheltenham, Gloucestershire. She says: "My name is actually Romillie and it is spelt like that, however it originated from the name Romilly but my mum decided to change it so it could be like my twin sister's name Poppie". (Clever, huh?).

Thanks for this first example of the variant, Romillie. I see by a quick web search that there are others, and it also appears as a surname.




Romilly Lowri Hogan

Born in December 2012 in Colwyn Bay, Wales, a first daughter for Tracey and Gary Hogan. Both parents loved the name and it ended any other choices, and yes, it was inspired by TV's Romilly Weeks. So far, nicknames are Romi, Ro-Lo and Romaleelee!

Welcome to the world, Romilly.

Born in April 1973 in Sydney, Australia. This is Romily with son Harrison (aged 11 in this photo). Other sons are Jackson (9) and Benjamin (5). They now live in Brisbane.
Romily says: "I am eldest of twins - my sister is Nicole. I am an Early Childhood teacher but am currently a stay-at-home mum! I am celebrating my 40th Birthday next week and I have never met another Romily - how cool is that! I love the uniqueness of my name and it has become a habit when asked my name to automatically spell it out (lol). I've also been known to order coffee and when they ask for my name I tell them it is Nicole just to avoid the surprised look when I say my name.
"I am adopted and my adoptive mother saw my name in a newspaper before she adopted me; it was the name of a little African baby up for adoption. When she saw it she loved it so much that she vowed her first born daughter would have the name Romily! That is me! If I had had a daughter somehow I would have had Romily in her name too."

Welcome to the page, Romily.




Romilly Freya Bedford

Born in 1996. Romilly lives in Yorkshire with younger sister Saffron.

Welcome to the page, Romilly.



Romilly Anne Carton

Born in March 1961. Romilly lives in Perth, Western Australia. (I see you are the third I've heard from living there ...)

Welcome to the page, Romilly.



Romilly Jean Davis

Born at Luton and Dunstable hospital in May 2008, a daughter for Russell Davis.

Welcome to the page, Romilly.



Romilly Elizabeth Parkinson

Born in March 2015, a first daughter for Sophie Oliver and Tom Parkinson. Romilly lives in Stoke Newington, London. (Information from her proud grandparents Steve and Elizabeth Oliver.)

Welcome to the world, Romilly.



Romilly Ava Faye Terry

Born in March 2015 in Waldorf, Maryland, USA to Gwendoline and Jeramy Terry. Romilly is half English (from her mum) and half American (from her dad). Pictures are at 10 days old and recent (about 2 months). She's the youngest of four - half-sister Madison is 10, brother Zachary is 4, and sister Evie is 2.

Gwen first heard the name on TV (news reporter Romilly Weeks again!).
Welcome to the world, Romilly.



Romilly Walker

Born March, 2015 in Toronto, Canada. "Maman" Kate says "I wish I could remember where I first heard the name but I don't. I suspect it may have been Romilly-sur-Seine. It was important to my husband and I that she have a name that works both in English and French (I am French). Now 8 months old, our Romilly is force to be reckoned with. She is a wonderful little human being, spectacular really! Romilly (or Romy, as she often goes by) is a happy, healthy little girl living in Toronto with her parents and sister Fable (a Golden Retriever)."

Welcome to the world, Romilly.

Here's a later picture at 19 months. Kate says she's still spectacular!



Romilly Marigold Joy Duckworth

Born Sept 2015 in Virginia, USA to parents Karl and Kristin, joining big brothers Cashel and Torin. Kristin says: "We are all so delighted she's here!"

Welcome to the world, Romilly.



Romilly Ella Grist

Born January 2012, a sister for Oakley and Florence. Mum Naomi says: "A unique name for a unique little girl. Everybody loves it!"

Welcome to the page, Romilly.



Romilly Wakeling (nee Crighton)

Born in 1978, in Chelmsford, Essex. Studied Business and Marketing at Anglia Ruskin University before a change, becoming a racing driver and taking part in Formula Woman to race up and down the country in a Caterham Super Seven! Romilly says: "I was named Romilly after my mother read a book where the lead character was called Romilly. (I wonder what the book was - maybe one of those I have listed?) The name soon took off in Chelmsford, and in secondary school I was joined by two other Romilly's in the years below me!". (The photo is of Romilly and her son Zane.)

Welcome to the page, Romilly.



Romilly Jane Hooper

Born in 2006 in Whangarei, New Zealand. A first daughter for Mum, who moved from Dorset to New Zealand in the early 2000's. The name came from a memory of "reading a historical bodice ripper novel in my mid teens with a character called Romilly". Maybe one of those I have listed below, perhaps "Hawkmistress"? Mum says "Kiwis have struggled with saying her name because it's unusual to their ears and we have to repeat ourselves when introducing her. Amongst other pet names Romilly is called Rom, Roms, Milly and Milly Moo. Of course she is Romilly Jane when she's in trouble!"

Romilly was thrilled to find (by Google) another Romilly Hooper in Wales [any info?] and that there is a Romilly St in London.

Welcome to the page, Romilly.



Romilly Esme Grace Marks

Born in June 2006 in Bury St Edmunds, Suffolk. A second daughter for Victoria and Gareth, and sister for Etholle. (What splendid names!) They are both competitive swimmers; Mum says "We spend most of our free time at various swimming pools around the region and beyond." Both are also very keen on horses and riding, living in a beautiful village just outside Newmarket.

Welcome to the page, Romilly.



Romilly Niamh Grier

Born in March 2017, in Kettering, Northants, a daughter for Lee and Lauren Grier. (Romilly's middle name is Irish Gaelic, pronounced "neev", meaning radiance, brightness.)

Welcome to the page, Romilly.



Romilly Smith

Born in England in 1972, and moved to New Zealand aged 5. Romilly lives near the sea in Dunedin, works as a bookbinder at the University of Otago Library in Dunedin.

Welcome to the page, Romilly.



Romilly NÚve Camber

Born in January 2003, in Kent, a daughter for Pete and Nicola Camber.

Welcome to the page, Romilly.



Romilly Mae Sibley

Born in February 2008 in Poole, Dorset, a daughter for Daniel and Melanie Sibley

Welcome to the page, Romilly.




Watch this space ... Thanks to all contributors ... and keep them coming!
Note to prospective parents:
Don't forget that Romilly is a perfectly good boy's name (see above) - indeed I get the impression that until WW2 we were predominantly male. Any more, please let us hear from you!
Places called Romilly
Romilly, Loir et Cher, 189 inhabitants.
Romilly la Puthenaye, Haut-Normandie, Eure, 310 inhabitants.
Romilly sur Aigre, Eure et Loir, 405 inhabitants.
Romilly sur Andelle, Haut-Normandie, Eure, 2658 inhabitants.
Romilly sur Seine, Champagne-Ardenne, Aube, 15557 inhabitants.
and nearby St.Hilaire sous Romilly, 347 inhabitants, and Pars lès Romilly, 713 inhabitants.
Romilly sur Peche, France. (Where is this?)
Romilly Street, Westminster, London W1.
Romilly Road, Islington, London N4.
Romilly Way, Fremont, CA 94536.
rue Munier-Romilly, Geneva.
Romilly Avenue, Lower Templestowe, Melbourne.
Romilly Oval, Parma, OH 44129.
Romilly Road West, Treganna, Caerdydd CF5 1FT, Wales.
Romilly Street, Westport, South Island, New Zealand.
Romilly Road, Canton, Cardiff, South Glamorgan CF5.
Romilly Road, Barry, South Glamorgan CF62.
Romilly Park, Barry, South Glamorgan.
Romilly Crescent, Cardiff, South Glamorgan CF11.
Romilly Crescent, Hakin, Milford Haven, Dyfed SA73.
Romilly Drive, Hadley Green / Barnet, Hertfordshire.
Romilly Drive, Harrow, Middlesex.
Romilly Drive, Watford, Hertfordshire WD19.
Romilly Court, Shoreditch, London.
Romilly Gardens, Plymouth, Devon PL7.
Port Romilly, Papua New Guinea, 7.67°S, 144.83°E. (Something to do with Hugh Hastings Romilly, perhaps? See above.)
Romilly Street, Sunnybank Hills, Brisbane, Queensland, Australia.
Romilly Street, South Hobart, Tasmania.
The Barry / Cardiff connection is with Sir Samuel Romilly (there's a pub ...) or perhaps his descendants, the "Barons Romilly of Barry"?
Otherwise, I have no idea about the origin of most of these - does anybody know anything???
And there's Romiley in Cheshire. According to the Gazetteer of Greater Manchester Placenames, the Domesday Survey of 1086 called the place "Rumelie" (roomy lea) meaning "a spacious woodland clearing". This Parish was once in Cheshire. In 1894 it was included in Bredbury and Romiley Urban District, and is now part of Stockport Metropolitan Borough.
Romillys in art and literature
Head of Romilly, the Artist's Son.

Oil painting of his son by Welsh artist Augustus John (1878 - 1961), London (ca. 1924). The original is in the Tate Gallery, London, reference N05292.

See also the Tate website.



Claire Romilly

Suspected spy in "Enigma", a novel by Robert Harris about the wartime codebreakers of Bletchley Park.


Romilly MacAran

Heroine of "Hawkmistress" in the Darkover fantasy series by Marion Zimmer Bradley, 1982. Here's more on the characters and plot.


Romilly

"The Boy of Egremont", son of Alice de Romilly. Alice allegedly founded the 12th century Bolton Priory in Yorkshire following her son's drowning in the Strid, part of the River Wharfe. This legend is recorded in the poem "The Force of Prayer; or, The Founding of Bolton Priory. A Tradition" by William Wordsworth (1807): "Young Romilly through Barden Woods is ranging high and low ...". The Strid, narrow but dangerously deep, is part of the Bolton Abbey estate, open to the public.


Romilly Bishop

Eponymous heroine of an unwritten novel, in a short story "The Beckoning Fair One" by Oliver Onions (1873 - 1961).
Table china ...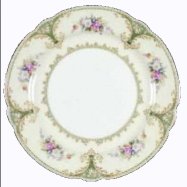 Made by Noritake Co., Limited of Japan. The "Romilly" pattern is apparently obsolete, but still available from several stores, for example here.

Musical instruments ...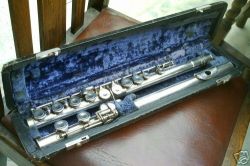 Antique flutes, clarinets, oboes (and maybe more) originally made for Rudall, Carte and Company of London (mid-18th to mid-19th century - now part of Boosey and Hawkes). They still appear frequently on eBay. (If anyone knows more about these, please write ...)

Cushions ...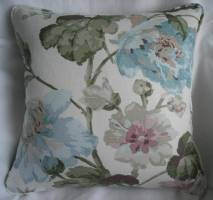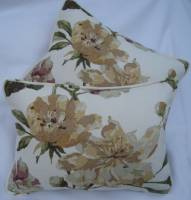 Cushions and cushion covers using Laura Ashley "Romilly" fabrics: "Duck egg" and "Gold" designs respectively. Thanks to Christine's Cushion Designs for these pictures.

And finally, a yacht!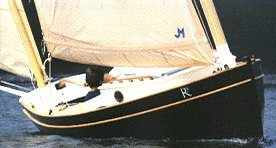 Romilly is a 22-ft 1200 kg lugger, designed in 1995 by Nigel Irens and built by the Bridgend Boat Co in Plymouth, Devon, UK. Big sisters are Roxane (29-ft and 3200 kg) and Roanna(37-ft and 9500 kg).

Now it's your turn ...
What do you know about any of these, or other, Romillys, past, present or future????
E-mail me! Corrections or amplifications very welcome ...
If you are mentioned here, do please write and tell me more about yourself. Thanks to those who have already written, this page is growing! (Or, if you would rather not be mentioned, please accept my apologies, and just let me know.)
There'll be more updates to come. Watch this space!
---